---





An insistent tale
When I finished with The Darker Path, I decided my next book needed to be about Jason. After all, I couldn't leave this as-yet undeveloped character in a coma forever. At that time, I only knew his name, and I called to him with all my willpower. But while I tried repeatedly to get Jason to talk to me, he remained oddly silent and enigmatic. Then another voice broke the silence and insisted upon having his turn. I resisted at first, but the harder I tried to bring Jason's story into focus, the louder Ronan yelled, until I gave in and admitted him into the Community. The moment I surrendered to Ronan's thrall, his adventure with Tyler Jenkins swept me hard and fast. Although many of my staple characters play supporting roles, poor Jason didn't rate mention in the original version of this fast-paced tale, a fact I'll correct while I revamp (no pun intended) the manuscript.
Abandoned to the church as a toddler, Tyler Jenkins leads a rational, emotion-free life, and at the age of twenty-four, has never experienced intimacy. She meets life's challenges head-on, works alone, and trusts no one, the pains of her past locking her heart in an impenetrable vault. Her photographic memory allows her to recall anything she'd ever been exposed to with crystal clarity. She always does whatever is necessary and prudent to achieve her objectives in both her professional and personal dealings. Now a Homeland Security field agent, she is preparing to embark on a secret mission at the onset of this story. Her assignment - covertly infiltrate Courleon's Consortium in Castillo Nuevo, Nevada, recover a stolen data chip, and make sure it hasn't been accessed before getting out undiscovered. She is the youngest member of the covert team, but the one most likely to complete the mission successfully without getting herself killed in the process. Tyler enters the Consortium's main building, but doesn't get far before literally bumping into Ronan. Her rational approach to life allows her to accept the existence of vampires and submit herself to the consequences of running with one without much second guessing.
Ronan is an ancient vampire with a dark secret - he possesses the spirit of a beast that manifests itself as a dragon whenever he loses control. Absent of clan affiliation, he exists in seclusion, avoiding all contact with other vampires and minimizing associations with mortals. No sentient being knows of his existence unless he allows it. For thousands of years, he has vicariously studied the world and its dealings, usually through prolonged meditation, and only emerges from his shelter when the need arises, either to regain his strength or to intervene whenever a problem grows large enough to attract his attention. His primary goal is to avoid those darker emotions that give the beast the upper hand, and protect the world from its lust for death.
He is investigating a rumor that Courleon is capturing vampire servants, specifically Community servants, and his methods for extracting information are brutal, to say the least. When his own servant disappears while attempting to confirm the threat, Ronan goes to the Consortium himself, but a debt he owes Tyler's boss divides his concentration. When he realizes the agent he was supposed to protect is a woman, his surprise and curiosity gets them both captured. Near fatally wounded, with Tyler growing increasingly ill as a result of inhumane torture, he contrives a daring escape. Before the story progresses much further, they become blood-bonded. Now on the run from the bad guys, they must seek out the Community in the hope that the Council of Elders will agree to help, while struggling against feelings neither of them need or want. But placing himself in the path of the Community will threaten his anonymity and place him in the uncomfortable position of having to trust and rely on others.
Ronan and Tyler's adventure is one misstep after another. I actually started to argue with them over how many times Tyler had to be rescued from the jaws of death. A lot happened to them in the few days they were together, and they kept me with them right to the end, but as I look at the manuscript now, I realize I left a great deal unsaid. Those of you who have read Dragon Lord will understand when I ask such questions as, Where did Ronan go while Tyler was busy coding? Why did he look so tired and agitated when he returned? And what happened to Jason? Ronan is still being somewhat enigmatic - that's his way - but Trey has volunteered to fill me in. These questions and more will be sorted out and addressed while I do the rewrite and prepare the novel for republication.
Ronan became very important to me. I always become personally involved with my characters - I mean, if I don't feel it, I can't write it - but even Joshua, who is still very special to my heart, did not touch me as deeply as my dark and mysterious Dragon Lord. Ok, I'll say it - I fell deeply in love with him. Maybe it's because I understood his motivations from the start. Although he seems like an irritating ass hole with a control fixation, you'll learn that his emotions run deeper and colder than Crater Lake in Oregon, churning within the core of his being while the surface, the face he shows to the world, remains, for the most part, undisturbed. He hides from the world not out of fear of it, but fear for it - the responsibility he bears is a terrible burden, and one that takes all his strength to control.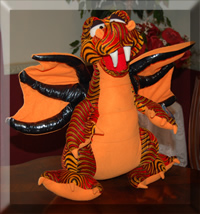 Oddly enough, my husband also holds a special affinity for Ronan, so much so that when he took his 2009 Challenger to his first car show, he brought with him a stuffed dragon we had won at the state fair a year or two earlier. Dubbed Ronan for good luck, the dragon sat at the side of the engine bay. Mike won his first trophy, and Ronan has accompanied him to every show since, the duo collecting a great number of trophies and plaques. When I asked why he fixated so strongly on this character, he answered, "Ronan's the kind of man you want in your corner."
Dragon Lord allowed me to delve more deeply into the inner workings of Haven, as well as expand on the vampire culture I had worked to build. I also explored the establishment of the Community and the history of vampire clans, identifying two that will play roles in future stories...
The Liberato, well known for their deviant culture, liberated themselves from their progenitors centuries ago, and have grown powerful enough to disrupt the careful, centeries-old truce between the clans. Because they're anarchists, they chafe against authority and hate everything the Community represents. Unable to resist the challenge Ronan throws their way, they become another antagonist, and further complicate Tyler's mission.
The mysterious and powerful Savant were born of my need for a race of scholars. This clan of artisans and intellectuals has an agreement with the Community, that in exchange for reducing their footprint on humanity they be granted dominion over all mortals possessive of certain extraordinary traits. I'm afraid Tyler Jenkins is one of those they consider most prized, and her association with the Community places their careful truce at risk.
I didn't fully appreciate the importance the Dragon Lord held within Haven's Realm until I wrote further into the series. The Dragon clan introduced themselves at just the right juncture, blending into the background plot so seamlessly and becoming important characters so abruptly I can't help but wonder if I am, truly, the one writing the saga. After all, I really didn't want to write this story next.
~ Tamara Monteau
Review for Dragon Lord:
4 out of 5 stars - Sexy and Exciting
by Rhonda Valverde "VampireRomanceBooks.com and ThatsErotica com"
"I really enjoyed Monteau's storytelling. This was a very exciting and fast paced read. From the first pages the action was non-stop and I couldn't seem to tear my eyes from the pages."
Read full review
Timeline
September, 2009 -
Began writing
December, 2009 -
Completed first draft
June, 2010 -
Self-published through AuthorHouse.com
October 21, 2010 -
Listen to my interview on The Book Club with John Austin! (Original interview)
November 22, 2010 -
John Austin discusses Dragon Lord in a follow-up program! Listen to the excerpt.
In this Thanksgiving Day podcast, John discussed his career and experiences. This is a fascinating interview! Hear the full podcast here.
November, 2011 -
Republished through Secret Cravings Publishing
September, 2015 -
All books removed from sale - publisher bankrupt. Began rewrites