---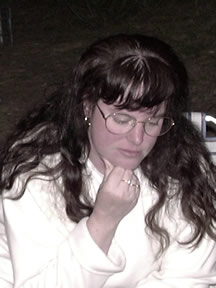 Greetings, devoted readers and curious visitors! My name is Tamara Monteau, and I am the creator of Haven's Realm, a series of sensual vampire romances with an enduring cast of characters, written for the mature reader. Those who have read my books told me they couldn't put them down, and are anxiously awaiting the new releases.
Now a little about myself. I was born and raised in Vancouver, Washington, amid the rainforests of the Pacific Northwest and my beloved Cascade Range. I miss swimming in the Columbia River, walking the Pacific Coast beaches, and eating Dungeness crab. After a few years serving in the United States Air Force, I settled down with my husband, Michael, in Middle Georgia. I have four children (the youngest still at home with his loud-mouthed and wimpy lab/chow), and one granddaughter. We also have two small poodles; Shadow, who also answers to stupid - you have only to meet his gaze to know the lights are on but no one's home, and Abby, named for the NCIS character and often referred to as the little hardhead.
I'm the creative sort. Among the crafts I've explored are sewing, embroidery, crochet, ceramics, porcelain dolls, and papercraft. I'm learning to play the piano, can edit music and video on my computer, and am also very good at manipulating photography and graphics. I spend most of my days quietly at home, lost in my own little world until the hubs comes home and I'm returned abruptly to the real one.
I've been in love with the written word ever since I learned to read. To me, it's the most perfect form of escapism. When there were no books to read, or on occasions like bedtime when reading wasn't allowed, I stretched my imagination and escaped into my fantasies. Daydreaming and musing became habits that followed me into adulthood.
The paranormal genre attracted my interest in the late 60's when the series Dark Shadows aired. Mom knew to have the television free when I got home from school, and the Collins family took priority over homework. I role played with my friends and sister, most often placing myself in the part of femme fatale. I was disappointed and frustrated after the short-lived revival concluded in 1992, and began obsessing over my own characters. Late that year, overwhelmed by ideas and spurred on by a friend, I began writing. Although my first attempt was a stunning failure, the genie had been released, and I've been a writer ever since.
I finished my second novel in 2003 and registered it with the Library Of Congress, then gave a copy to my supervisor at work. She presented me with a congratulatory trophy and told me I had to get published. While I struggled to do just that, another co-worker and my best friend put me in contact with AuthorHouse.com, and Twilight Destiny made it to print. I self-published two more, then submitted my fourth to Secret Cravings Publishing. They accepted all four books, and helped me connect them into Haven's Realm. In the four years that followed, I published two more books, learning and growing as a writer. Now that I'm no longer in print, I'm revisiting my earliest works, polishing the series in hopes of attracting another publisher.
To me, writing isn't a job I must do to survive. It is a living force inside me, prompting me onward and often replacing the world around me. Over time, my imaginary friends have become very real, and the love I feel for them is written in every line of Haven's Realm. I present them to you in hopes that you will come to love them every bit as much.
~ Tamara Monteau